NetWolves can design, deploy, monitor and manage a scalable solution to meet your critical business needs. NetWolves' powerful Managed Network Services provide the flexibility to meet your business needs today and for years to come. Our support team consists of highly-skilled and experienced Analysts and System Application Specialists. A unique approach to 24/7/365 network monitoring services gives us the ability to proactively anticipate problems before they actually occur to minimize system downtime and unwelcome disruptions.
SD-WAN
Our SD-WAN solutions are carrier agnostic. We utilize our relationships with internet providers across the country to give our customers reliable connectivity in many different locations, all on a private connection. SD-WAN leverages lower cost, higher bandwidth internet access and powerful edge devices to prioritize secure traffic. Many organizations do not have the in-house resources or expertise to take on this level of complexity of a switch from a traditional MPLS environment to an SD-WAN solution. That's where NetWolves comes in. We will work with you to find the SD-WAN solution that's the best fit for your specific needs.
Monitoring
NetWolves offers multiple levels of monitoring options to provide your customers with transparency to their IT infrastructure:
Silver – A basic up or down monitoring of each network circuit or device.
Gold – A robust monitoring of your network devices, including interface statistics along with CPU and memory utilization, network interface errors, and packet drops.
Platinum – Adds our proven WolfPac™ device capable of capturing, recording, and validating nearly anything on the network. Each network device is scanned for thousands of potential risks, and packet headers for all network interfaces or devices are captured and displayed.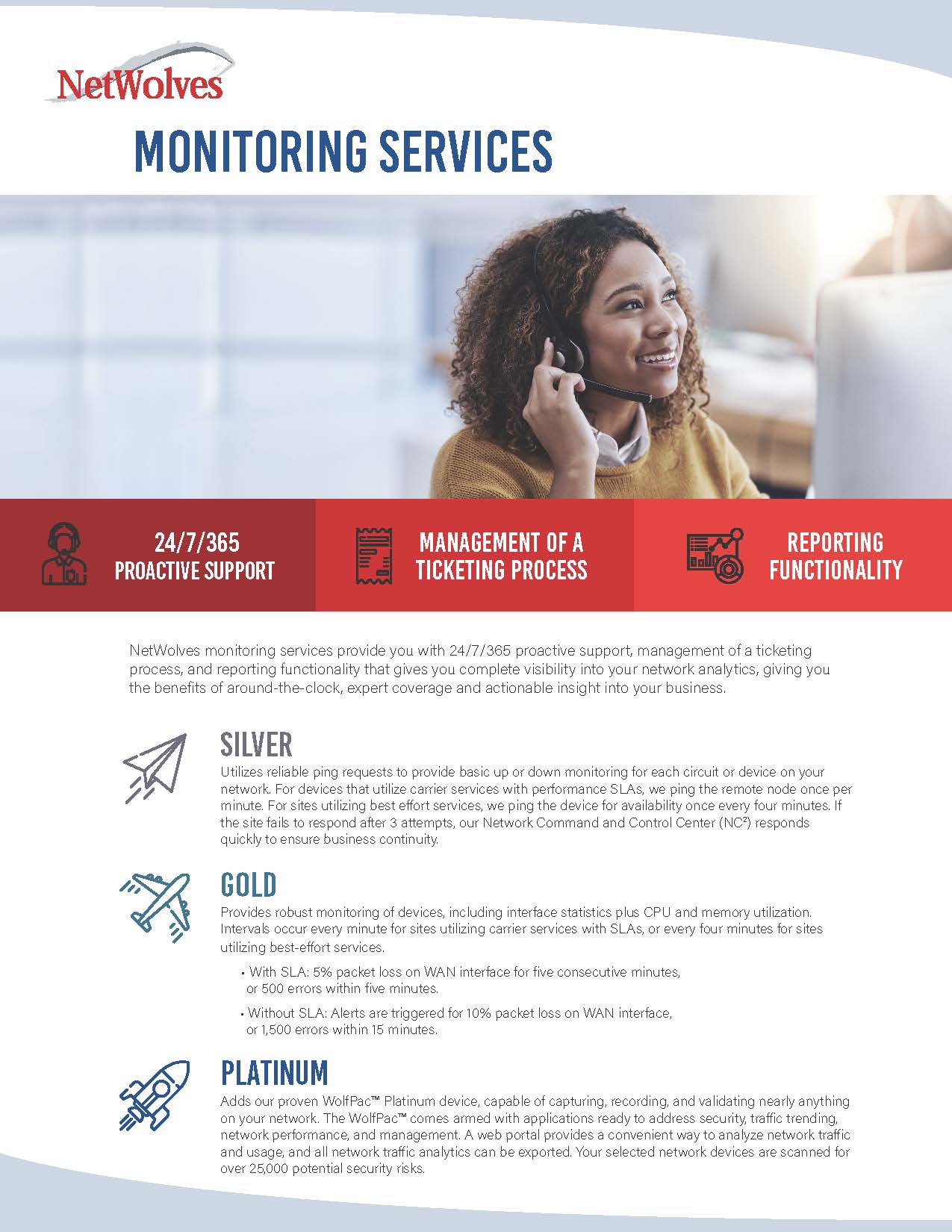 SRM²™ Self Service Portal provides you with convenient access to on-demand bandwidth statistics and reporting, and historical and real-time network health information. You also get a breakdown of each device by state/country.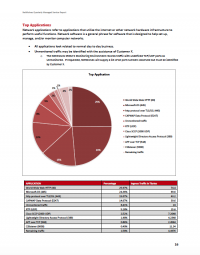 Wolfpac™ Platinum Monitoring Services offers high performance and provides a secure and robust foundation from which our patented SRM²™ system can capture, record, and validate nearly anything on your network.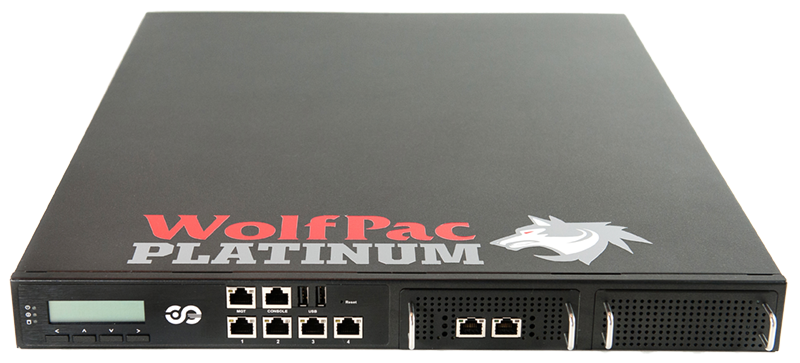 IT Infrastructure Management
We can manage all elements of your IT Infrastructure; Network, Compute and Security. We provide you with around the clock monitoring of critical elements on your network that proactively detects and isolates potential threats or problems as they arise, before they escalate and impact productivity. Our direct integration with your existing organization and support staff to ensure timely notification and targeted responses. You have access to your data on our self-service web portal access to real-time and historical network health information.
Security Reporting
All Managed Network Service (MNS) customers have the option to receive the Quarterly Managed Services Report (QMSR). The QMSR includes an executive summary that gives you an overview of your partnership with NetWolves and our provided services. It also summarizes your NetWolves services, network performance, and user trends. You will receive a summary of metrics across all products and services under the care of NetWolves and potential issues based on a review of quarterly data.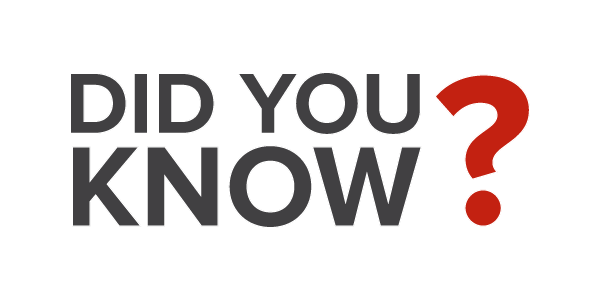 We've been doing business for over 20 years
and our US-based engineers support clients around the globe.